Dr. Ardalan Keshtkar is honored to present our amazing team of dental professionals! Thorough and kind, our team at Sierra Gate Family Dental focuses on patient-centered dental care in Roseville, California. Their attention to detail and willingness to learn and improve allows our team to provide exceptional service for our patients. By collaborating and supporting our dentist, our team creates a cooperative environment, driven towards patient success. Learn more about us below or call 916-784-0900 to schedule an appointment!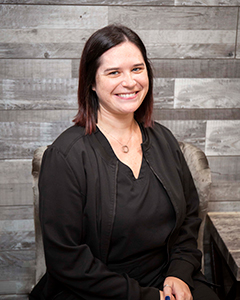 Laura
Office Administrator
Laura became a part of our team in 2021, bringing with her over 7 years of valuable experience in the dental industry. She is passionate about maintaining a high standard of care and patient service, always striving to exceed expectations in providing exceptional dental care. Laura's commitment to accuracy and attention to detail ensures that each individual patient receives the personalized care they deserve.
Born and raised in the vibrant city of Portland, Laura has a deep connection to her roots. She cherishes the opportunity to visit her family and spend quality time with her nieces and nephews whenever possible. Beyond her work, Laura has a zest for life. She has a strong passion for music and enjoys attending sporting events. Her love for the great outdoors is evident as she finds joy in activities like reading, hiking, camping and exploring new places, particularly the beautiful beaches of the Pacific Northwest.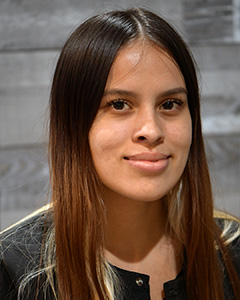 Kaya
Front Office Administrator
Kaya began with us in August 2023. She is a high school graduate from Roseville High and is currently pursuing her education at Sierra Community College, with aspirations of transferring to earn her aesthetician license. Kaya thrives in a learning-centric environment and is known for her patient and understanding nature. She possesses a remarkable ability to listen and absorb new information, and her positive spirit shines through her work.
Outside of her professional life, Kaya is a family-oriented individual with three brothers and one sister. Growing up, she shared her childhood with one of her brothers, and her parents, though not married, have remained together. Kaya's household also includes two charming, chunky cats, with one in particular holding a special place in her heart. She has a passion for crafting, especially crocheting beanies and stuffed animals. Gaming is another one of her interests, and she even had a custom-built PC for streaming on various platforms. Kaya is committed to maintaining a healthy lifestyle and dedicates an hour to daily workouts, finding that it greatly motivates her. She loves exploring new experiences and is always eager to broaden her horizons.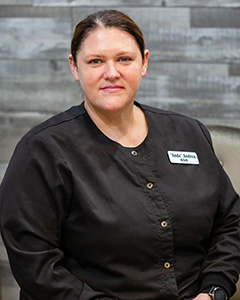 Andrea T.
Registered Dental Hygienist
Andrea, affectionately known as "Ande," has been a vital member of our team since 2022, bringing with her an impressive 25-year journey in the dental field. Her career started as a dental assistant, and her dedication led her to achieve an Associate of Science degree in dental hygiene from Western Career College in 2006, where she maintained a remarkable 4.0 GPA and earned an award for academic excellence. Andrea's passion for dentistry shines through her work as a registered dental hygienist, where she is committed to providing the highest level of care to her patients. She deeply values the warm, family-friendly atmosphere among both the staff and patients, and her contributions in patient education and communication ensure that her patients receive not only good care but also valuable home care education.
Beyond her professional accomplishments, Andrea is happily married to her childhood sweetheart, and together they have raised two wonderful adult children. She treasures quality time spent with her family, whether it is enjoying houseboating adventures, exploring the great outdoors or simply hanging out together.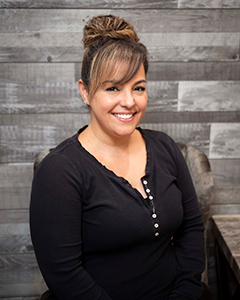 Sammi
Registered Dental Hygienist
Sammi has been an important member of Sierra Gate Family Dental since 2021. She received her RDA license in 2004 and later expanded her dental career by becoming a dental assisting instructor at Carrington College in Citrus Heights, CA, a position she held for nearly five years. However, Sammi knew she wanted to further her formal dental education and chose to pursue her passion for becoming a dental hygienist. In 2010, she earned her Bachelor of Science degree in dental hygiene from the prestigious New York University College of Dentistry, graduating with high honors, as well as earning a minor in teaching and education.
When she's not caring for her wonderful patients, Sammi enjoys spending time with her husband and two sons, as well as getting together with friends and family. She also enjoys traveling, watching a good movie and exploring new restaurants around town with her husband.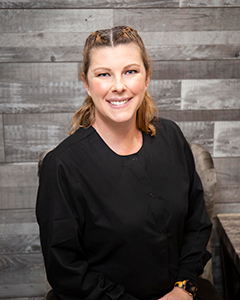 Katherine
Registered Dental Assistant, Expanded Functions II
Katherine, fondly known as "Kat," joined our team in July of 2020. She brings a wealth of expertise, having earned her dental assistant certificate from 49er ROP in 2014, followed by her expanded functions II license. Kat's passion for dentistry shines through her commitment to delivering exceptional care to our patients. She takes pride in being part of an outstanding team with diverse talents, collectively working together to provide the highest level of patient care. Kat's unique contributions, particularly her restorative talents, play a pivotal role in creating a fun and caring dental experience for our patients.
Outside the dental office, Kat's world revolves around her loving family. She shares her life with her husband, Matt, and their daughter. Kat finds joy in various activities, including camping, traveling and savoring delicious food with loved ones. She is an avid fan of the San Francisco Giants and enjoys attending concerts, as well as baseball and football games.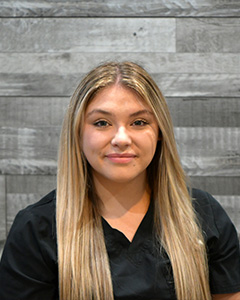 Devinn
Registered Dental Assistant
Devinn became part of our team in February of 2023. With a strong commitment to excellence, Devinn brings a refreshing energy to the staff and a genuine desire to provide our patients with exceptional care. Her passion for her role is evident in her dedication to ensuring that every patient has a positive and memorable experience during their dental appointments.
When not at the office, Devinn enjoys the thrill of the great outdoors, hiking and the freedom of riding her motorcycle.